Future of Aviation
Today, technology is becoming the major engine of aviation. To meet the demands and expectations of modern passengers, the industry seeks to follow the current technological trends. In the coming years, such technologies as AI, Machine Learning, Computer Vision, and IoT will be prominent for the aviation sector improving the passenger experience.
The rapid development of technology has been fueled and streamlined by the COVID-19 pandemic that led to an unprecedented crisis in the aviation industry. Since the coronavirus outbreak, the number of scheduled flights across the globe has decreased by 48 percent compared to 2019. To stay afloat and protect the health of the passengers the industry had to adapt to the strengthened travel restrictions.
To help aviation companies stay abreast of modern technological trends and accommodate the new COVID-19 safety regulations, we have developed software solutions powered by AI, Computer Vision, and Machine Learning.
Industry Solutions
Social Distancing Monitoring System
Face Masks Monitoring System
Queue Monitoring System
Airport Security System
Smart Airport Retail Solution
Social Distancing Monitoring System
As the COVID-19 pandemic spread out, physical distancing was one of the first prevention measures that airport operators had to implement. However, it's become quite a challenge to monitor whether passengers and staff follow the safety regulation. 
For this reason, we have designed a robust solution that will help airport operators comply with the established social distancing rules.
An AI-powered intellectual system will help free up the airport stuff and complete the following tasks:
Controlling the number of people entering the airport

Informing airport visitors whether they are allowed to enter or not

Covering multiple airport entrances and exits

Online density map of crowds at an airport

Reporting on building's daily footfall
Face Masks Monitoring System
Along with social distancing, one of the required safety measures has become wearing masks in almost all public places, including airports. Airport operators strongly need a smart solution that will help them ensure all passengers and employees meet the regulation. 
For this purpose, we offer a robust video analytics system powered by Artificial Intelligence to help airport authorities constantly monitor airport visitors and employees to detect mask policy violators without engaging additional staff.
The system provides the following features:
Smart algorithms for a precise mask detection of all types and sizes, not affected by hat, glasses, or headscarf

Smart alerts about the norm violations: no mask or wearing incorrectly

Storing violators' photos in the database

Building a roadmap of a violator to keep other employees away

Smart reminders about wearing masks
Queue Monitoring System
Airports daily have to contend with long unruly lines of tired, frustrated people. Essentially, it causes a reduction in passengers' level of satisfaction. To overcome extreme overcrowding and queueing, airport managers have to increase the number of counters and engage more staff.
Softarex offers smart AI-powered video analytics software that helps to monitor passenger flow and manage queues. The system creates heatmaps from video streams and measures a large set KPIs for queues in unruly airport areas such as check-in and security control:
Queue outflow

Queue length

Desk throughput 

Process time

Estimated waiting time
Real-time KPI measurement helps optimize resource planning and desk allocation, improve queue management efficiency, and, as a result, boost overall passenger experience. 
Airport Security System
Airports are a potential target for different forms of crime ranging from shoplifting and theft to drug trafficking and terrorism. Therefore, it's important to have a reliable security system that will help streamline potential threat identification and mitigation. 
A smart airport security system powered by Computer Vision and AI will help airport operators automate and optimize their daily security operations. The system has a wide range of capabilities:
Facial recognition and face identification

Monitoring the behavior of large groups of people

Identification of monitoring suspicious movement patterns

Behavioral analysis

Monitoring and automation of the check-in process, and more

Keeping records of the people flow through certain areas

Predict and quickly respond to crowds or isolated situations

Monitor a particular suspect's movements within the airport and map them

Onboarding security with facial recognition

Detecting weapons under passengers' clothing, in bags and luggage

Tracing passengers' digital footprints and phone calls to banned countries
Smart Airport Retail Solution
The retail area is one of the primary contributors to airport financial stability and infrastructure. Therefore, investing in smoothly functioning airport retail management is an issue of high relevance for forward-thinking airport operators.
Softarex offers an AI-based video analytics solution to help airport operators boost customer experience, bring structure to the retail management and, accordingly, generate more revenue and. It provides valuable insights into airport retail shops, passengers' behavior, and buying habits. The system has the following capabilities: 
Analyzing shop footfall by counting the number of consumers

Optimal staff planning

Product placement and store layouts optimization

Adjusting working hours according to the store footfall

Reducing waiting times

Monitoring visitor demographics, shopping time, and routes

Analyzing customers' on-site activities and detecting their emotions

Cloud-based data hosting
Connecting Fellow Travelers
Fellow travelers are an integral part of any flight. They can either make or break a journey. As a result, passengers may arrive at the destination exhausted and irritated. That's why we've designed WAITO — an app that connects travelers with similar interests and, therefore, reshapes the whole passenger experience.
WIth WAITO, travelers can:
Choose seatmates that share their business or personal interests
Connect and interact with fellow travelers in passenger chat
Find a company for a layover
Navigate through an airport to find a place to eat or shop
Share a ride into a city
Check their flights' details
To airports, airlines, F&B, and travel retail stakeholders, WAITO offers an extremely efficient communication channel that helps deliver a more personalized experience to passengers, grow ancillary revenues, and gives comprehensive customer insights.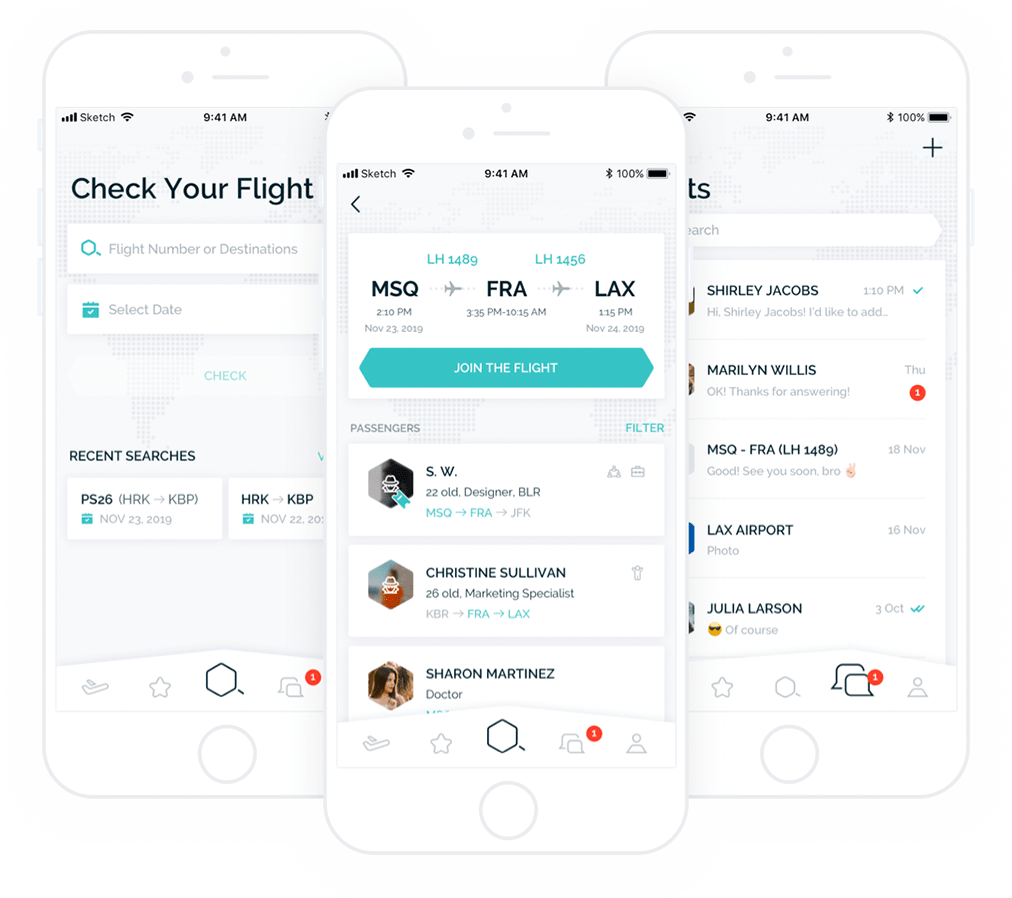 ;